Sport
The Parc de la Citadelle is particularly popular with sports enthusiasts. Its 110 hectares offer a variety of venues for outdoor activities, from paddle racing to yoga.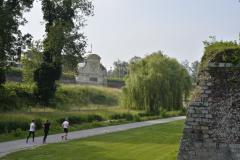 Sport circuits for beginners or experienced athletes alike, plus wellbeing routes
Want to run or practise power walking? Check out the sports circuits offered by the the City of Lille's Sports Department.  Wellbeing routes alternating walking/running over 2 to 3 km and fitness exercises are also available.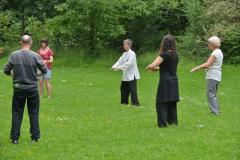 The Parc de la Citadelle, your sports field
The grassy expanses of the great plains located in the north of the park are there for you to practise your favourite sports, from volleyball to slackline!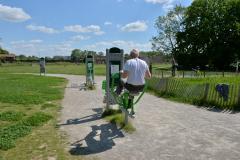 Sports equipment for you to use
For your "street workout", strength-building and stretching sessions, the City of Lille has set up sports equipment with explanatory signs.
Water-based activities on the Deûle
On this spot surrounded by water, you can also practise organised, supervised water sports such as paddle paddleboarding?, rowing or canoeing. More info at lille.fr